I just thought I'd share some sites that I discovered on the net this week while blog hopping . . .
I really love the clothes on the
DownEast Basics
site. It's such a great combination of the style that I love, modern yet very classic. Oh and not to mention, I thought the prices were pretty reasonable. Here are a few of my favorites.

This ruffled sweater can be paired with jeans or a nice dress or skirt. Love it!

I can totally see myself wearing this adorable top! This is my favorite for sure!


Love this basic 3/4 sleeve scoop neck tee.
 I've posted about this bag/purse once before and talked of it several times more . . . since then a new style has come out. I love this bag! I want this bag! Oh man isn't it just lovely! The thing I love most is that it's stylish enough to carry around as a purse, and yet my digital SLR can fit right in it. There are so many other colors to choose from, go have a look
here!
Love, love, love it!

Jo Totes Women's Camera bag/purse

I thought that this was a new and fun way to serve pizza. And it's easy enough that I think I'll make it for an after school snack next week. But it would also be great to serve as a snack during a football game! Now that's an idea! Instructions on how to make it can be found on
Tidy Mom's
website. A very cool site, with tons of great ideas and inspiration!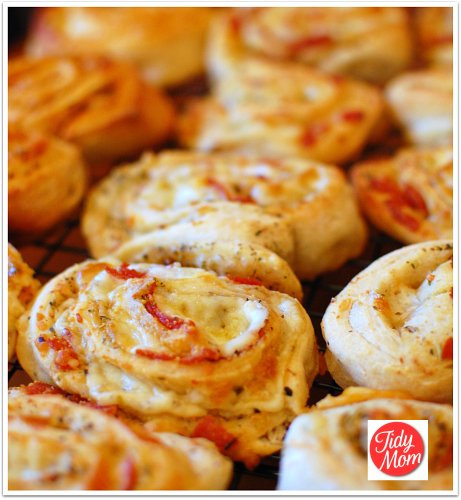 Homemade pizza rolls.


Okay seriously, this is definitely an inspiring place on the web. I love all the home organization ideas. Go check out
The Inspired Room
I promise, you'll get lost in the sea of ideas on that site!
And here's just one more idea for the home.
Do have a very quote or saying that just speaks to you?
It could be a verse from th bible even. Well I have always loved words . . .sayings, quotes, and bible verses. Here's a nice way to incorporate it into your home decor. I love this idea and have since created my own little simple quote print. I totally love
Becky's Blog
this isn't the first time I've shared an idea of hers and I'm sure this won't be the last!
Happy Friday! Have a safe and enjoyable weekend!